The Purlin Mill's JORNS Machine
What if you could bend steel with just a fingertip? 
The Jorns JDB Double Bender, a new piece of machinery at the Purlin Mill in Hubbard is the only one operating in all of North America. And yes, it may not give you Superman-like strength to bend steel, but it does allow for an unparalleled level of strength, accuracy, variety, and simplicity.  
"You can literally begin a project by just drawing a shape with your finger on the onboard touchscreen," says Don Branch, President of Purlin Mill. "The machine will formalize your drawing and you simply backfill it with measurements, gauge, angle, and other specs. Very quickly, you can start feeding it steel and turning out product." 
The Purlin Mill, which has been operating in the Willamette Valley since TKTK purchased the machine from the manufacturer in Switzerland in 2019. Because of supply chain issues, the Jorns was not operational until late last year. "Once our customers learn what the machine can do, they are very excited," says Branch.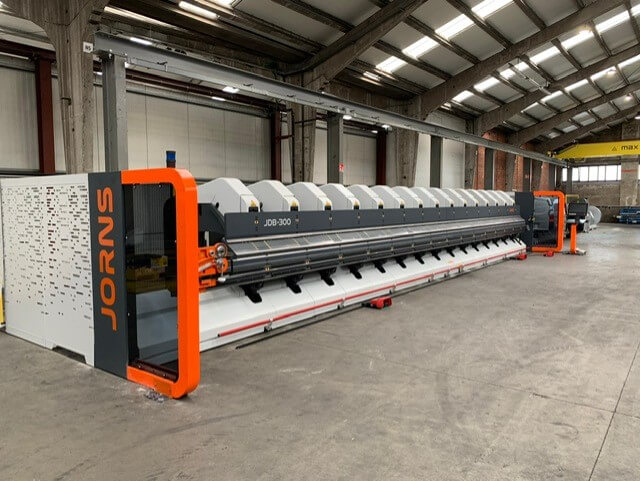 So, what can it do? As the Purlin Mill website puts it, "Our bending capabilities will be 49" Max. throat depth, 40' Max. bending length, 30 gauge to 11 gauge Max. Steel, 4.0 mm. Max. Aluminum, 2.00 mm. Max. Stainless Steel. This machine makes very clean and accurate bends. It can make diagonal bends, ½ round bends, tapered ends for a tight fit, open or closed hems and much more." 
For those of us squarely outside the world of steel construction, Branch puts it this way, "It can bend thicker steel than most machines and can do it with a level of fine-tuning--much of it automated--no other machine is even close to capable of. Plus, while many bending machines work with a max of twenty-foot sheets, the Jorns works with pieces up to forty feet. " 
As an example, Branch points to gutters. The Jars can manipulate a forty-put sheet of steel with taper ends so pieces fit perfectly together. Tradition rollers cannot do that and so you have to try and make two pieces of the same size fit together with extra pieces. Eventually, those pieces get clogged. We avoid all of that, just by starting with a better product."  
The capabilities of the Jarns are largely open-ended, which allows Branch and his team to act quickly to meet demands. "As long as what they want is made out of steel, there is a good chance we can make it for them. And quickly. Plus, if the project needs to be replicated, we can show the machine a barcode of the specs and it will immediately bring it up, ready to go." This means architects and engineers can design with a known material, but have far more options to add style and functionality to their projects.  
"Right now, most of our customers have been local," says Branch. "But as more people see the machine and imagine what they can do with it, we definitely see expansion in the very near future."  
Learn more about the Purlin Mill and the Jorns at thepurlinmill.com